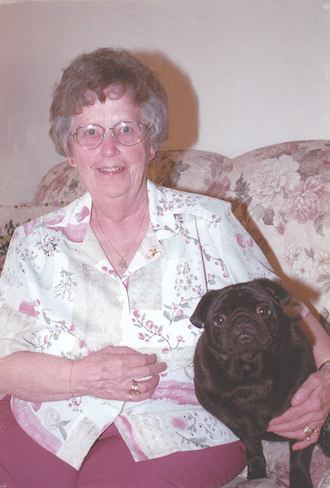 Jean Gowing of Listowel - Age 85
1935-03-26 - 2020-09-22
At Listowel Memorial Hospital on Tuesday, September 22, 2020, Mrs. Jean Loyace (Beirnes) Gowing of Listowel in her 86th year.
Beloved wife of the late Wilfred Wray Gowing.
Loved mother of Darlene (Garry) Vander Eyk, Brenda Jean Morck, Heather Gowing & Peter, Brad Gowing & Rose and Carol Gowing.
Always remembered by nine grandchildren, seventeen great-grandchildren and two great-great-grandchildren.
Also survived by sisters-in-law Ruth Gowing and Nellie Hammel, as well as several nieces & nephews.
Predeceased by daughter Connie Gowing, son Allan Gowing, brother David Hammel, brothers-in-law Ken & Milford Gowing and sister-in-law Louise Gowing.
A family graveside service will be held at Fairview Cemetery, Listowel, on Friday, September 25, 2020, at 11 am, with Rev. Ralph Dwarika officiating.
Memorial donations to Listowel Memorial Hospital Foundation, 255 Elizabeth St. E., Listowel, ON N4W 2P5 would be appreciated.
Condolences & donation information available at www.listowelfuneralhome.com
A family graveside service will be held at Fairview Cemetery, Listowel, on Friday, September 25, 2020, at 11 am, with Rev. Ralph Dwarika officiating
No information available yet
Location
800 Davidson Ave N
Listowel
N4W 3C2
Canada
519-291-4947