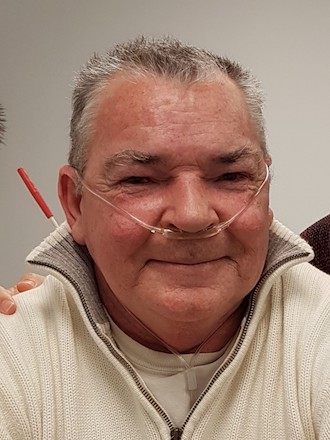 William Douglas Hamilton of Palmerston - Age 64
1954-07-05 - 2019-04-05
William Douglas Hamilton of Palmerston, passed away at Palmerston & District Hospital on Friday, April 5, 2019, in his 65th year.
Beloved husband of Doreen (Mason) Hamilton. Dear father of Lee Ann & Valerie. Remembered by grandchildren; Harmony, Jaraden & Spirit.
Dear brother of Margaret (James) McMahon, Carol Ann, Sandra, Colleen, Donald & Robert and step-father of Ian Cairney. Also survived by his aunts, uncles, nieces, nephews, cousins and friends.
Predeceased by his parents Earl & Alice (Harkes) Hamilton and sister Loreen Marie Hamilton.
Douglas had been a 37 – year employee of Campbell Soup, Listowel.
Cremation arrangements have been entrusted to Listowel Community Family Funeral Home in Listowel.
A memorial service will be held at a later date.
Memorial remembrances to Lung Association of Western Ontario, 639 Southdale Rd. E., Unit 2, London, ON. N6E 3M2 or The War Amps Ontario, 1 Maybrook Drive, Scarborough, ON, M1V 5K9, would be appreciated.
A memorial service will be held at a later date
A memorial service will be held at a later date